Shillong, Jan 7: St Anthony's Higher Secondary School and Shillong College Higher Secondary Section were victorious in their respective football finals of the Reliance Foundation Youth Sports National Championship in Navi Mumbai today.
St Anthony's won the junior boys (Class 7-10) final 1-0 over Maharana Pratap Sports College of Dehradun, while it was closer in the senior boys (Class 11-12) category where Shillong College beat Malabar Special Police HSS of Kozhikode 5-4 on penalties after full time ended goalless.
Nevielle Majaw struck in the ninth minute for St Anthony's and the team held off their opponents for the rest of the match. Justerwell Tham was awarded with the Golden Boot as top scorer and Golden Ball as best player. The result was a reversal of what had happened when the two teams, who were both drawn in Group A, met earlier on – Maharana had won that encounter 1-0, but when it mattered the most St Anthony's were able to pull off the win.
Meanwhile, in the senior boys final Shillong College's Freddy Warbah saved two penalties taken by Malabar in the tiebreaker and scored one himself to give his team the winners' trophy. Warbah was awarded the Golden Glove for his goalkeeping skills.
As champions both sides took home cheques of Rs 3 lakh each.
Three teams from Shillong went into the national championships in Navi Mumbai – St Anthony's in the junior boys category (Class 7-10), Shillong College in the senior boys (Class 11-12) and Shillong College in the college boys (undergraduate).
No girls teams were able to qualify.
More than 5,000 schools and colleges took part across 25 cities. Their number was then whittled down to 32 for the final round in Navi Mumbai. It began on 29th December.
Each category had two groups of four teams each.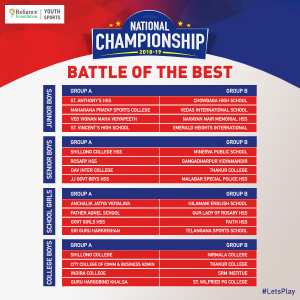 In Group A of the junior boys category St Anthony's first drew 2-2 with Ved Vignan Maha Vidyapeeth. VVMV of Bangalore had 16 players in their squad of 18 who hailed from Meghalaya interestingly enough.
St Anthony's then thrashed St Vincent's High School 9-0 before they lost 1-0 to Maharana Pratap Sports College in their last group fixture.
In the semifinals on Friday St Anthony's were then beaten 3-1 by Chowbaga High School of Kolkata, but the latter were then disqualified on eligibility grounds, so it was the Shillong team that went on to face Maharana Pratap Sports College for a second time.
Shillong College played their first fixture of the college boys category on 30th December when they were held to a 1-1 draw by Indira College of Commerce & Science. They then edged Guru Hargobind Khalsa College 2-1 on New Year's Day before storming into the semifinals with a 5-1 victory over City College of Commerce & Business Administration on 3rd January.
The last-four fixture versus Thakur College appeared to be going their way when Robert Khongjoh gave them a first half lead, but they went on to miss two penalties and had a man sent off, allowing Thakur College to take a 3-1 victory. They must have been missing players like Phrangki Buam and Samuel Lyngdoh Kynshi, who were instrumental in seeing Shillong College qualify for the final round but had to miss out as they are part of the Shillong Lajong I-League squad.
The Shillong College Higher Secondary team, on the other hand, won all of their matches and conceded just one goal on their road to the final – they beat DAV Inter College 1-0, JJ Government Boys HSS 6-0 and Rosary HSS 2-1 in the group stage, followed by a 1-0 win over Gangadharpur Vidyamandir in the semifinal.
(Photo/image: Facebook/Reliance Foundation Youth Sports)