Shillong, Jan 24: Eleven gripping matches were held on the second day of the 3rd North East Blind Football Tournament, organised by the Indian Blind Football Federation, at Shillong Public School here today.
Bethany Society of Shillong won their second match and are at the top of Pool A, while FABB Kolkata played their first two games today and won both to top Pool B.
Bethany Society played the last match of the engaging day, winning 4-0 over Newbies United.
Gabriel Nongrum scored his second consecutive hat-trick, with Hilter Khongphai scoring one later on. Both Nongrum and Khongphai are India internationals. Nongrum, who plays up front, was stunning in his control of the ball. He is capable of running all the way up the pitch without losing the ball, which is no mean feat without being able to see.
Although the action is very competitive on the pitch, there is also a firm sense of camaraderie and being willing to lend a hand, which was embodied in Bethany Society's opponents – Newbies United – who comprised players from several participating teams who might not get a chance in the starting lineup. However, to back them up they had in goal PS Sujith, the India international goalkeeper. He made some good saves, but even he could not keep out the lightning strikes by Nongrum.
The day started bright and early with North East Shower Blind Football Club (NESBFC) of Arunachal Pradesh beating Garo National Blind Football Club (GNBFC) 2-0, with both goals scored by Klingson. Klingson also scored the lone goal in NESBFC's 1-0 victory over Handicapped Association of Manipur.
The Handicapped Association of Manipur did, however, storm to a 9-0 victory over Siliguri Blind School thanks to a double hat-trick (seven goals in total) by Manzur Hussain and a brace by Padichun.
After that a lone goal by Rolungthara gave Mizoram a 1-0 victory over Newbies United, while Moran Blind School beat Mont Fort School in an Assam Derby 4-0, with Neerav scoring all the goals.
FABB Kolkata then played their first game of the competition and came through past the Tura side 5-0 with all goals off the boot of Rajkumar.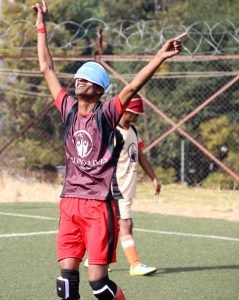 What followed was a really intense game between Mizoram Blind Society and Mont Fort School. Mont Fort took the lead through Nyo Nok, but intense pressure by Rotlungthara saw him score a goal for his team and the match ended 1-1.
Then, in another close contest, Rajkumar put in two goals for FABB Kolkata, but Siliguri Blind School did not give up and, after coming close on numerous occasions, Jayadeb pulled a goal back, though Siliguri could not find an equaliser.
Tomorrow's games will sort out which teams reach the semifinal stage. The action will begin at 8AM.
(Photos contributed by the Indian Blind Football Federation)