Shillong, Jun 3: The Shillong Dojo Karate-Do Association held its annual general body meeting and election of office bearers here on 27th May.
Former SDKA Assistant General Secretary Banri Phira Lyngdoh was elected as the new President for a three-year term. Arki Nongrum and Iaikyrsoi Giri Wanswett were elected as Vice-Presidents.
"We are a part of a bigger ecosystem in developing this sport. We are here to do the best we can, not just for the kids sitting here, but the sport as a whole," new VP Nongrum said. "I hope we can take this sport to a much bigger stage in our state of Meghalaya and into the rest of the North East. I hope we can give the best to you and all the best to the parents. We want to support them as much as we can; let's do this for this generation and all the generations to come."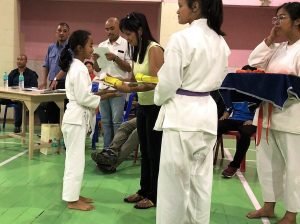 The meeting was followed by a belt graduation programme, where belts and certificates were distributed to the children who passed their exams and were promoted to the next level.
SDKA office bearers:
President – Banri Phira Lyngdoh
Vice-Presidents – Arki Nongrum, Iaikyrsoi Giri Wanswett
General Secretary – Linza Fenny Syiem
Assistant General Secretary – Barihunlang Myrthong
Treasurer – Diwarson Nongrang
Organising Secretary – James Bamon
Assistant Organising Secretary – Glikerius Buhphang
Publicity Secretary – Rodrick Syiem
Executive Members – Brandon Sun, Bandana Wahlang, Banylla Challam, Felicia Nongdhar, Wanphrang Jyrwa, John Basaiawmoit, Ankita Koch, Pratima Thapa, Medina Basumatary, Elleenza B Syiem, Lucky Khongshei, Jacinta Mary Kurkalang, Albert Pyngrope
Adviser – Hunlang Lytan
(Photos contributed by the Shillong Dojo Karate-Do Association)