Shillong, Jul 22: The final round of Third Division Group A matches were held at Second Ground, Polo, today.
The first game of the day was for the wooden spoon of the group, with Krang beating Risa Colony 2-1. Risa Colony scored first, through A Nongrum in the 26th minute, but Krang came back with a brace from K Mylliem (33′, 54′) to win and finish with six points to Risa Colony's four.
The second match saw Umphrup confirm their place at the top of the group with a 2-0 win over Lamlynti. The goals were scored by S Kharumnuid (22') and P Kharumnuid (50').
The third and final game ended in a 0-0 draw between Lumdiengjri and Umpling.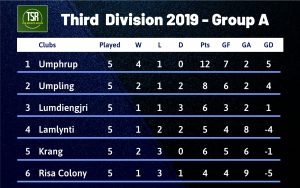 Tomorrow's fixtures (all Group B):
Nongkseh vs Mawnianglah, 12:30PM
Mawshbuit vs Pohkseh, 2PM
Mawtawar vs Young XI, 4PM