Shillong, Aug 3: Six teams were involved in the first matches of the new season of the Meghalaya Baby League, with excitement reaching fever pitch thanks to plenty of sunshine as well as friends and family cheering on the youngsters at Third Ground, Polo, here today.
The second season of the MBL has 12 teams in the Shillong centre, divided into Western and Eastern Conferences. All of today's games involved teams in the Eastern Conference, namely last year's overall champions Langsning Greenergy Lions, Kickstart FCC Rhinos, Unified Gorkha Gators, and new teams Shillong Lajong Coyotes, Titan Otters Football Academy and Mawkhar Roosters SC.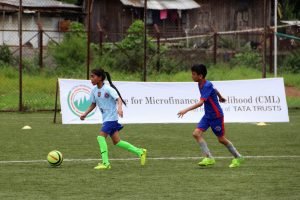 Each team was involved in four competitive age category matches, while the U-6 players engaged in fun football-related activities.
Watching the games with interest included All India Football Federation General Manager Ms Swati Kothari, Meghalaya Football Association President Larsing Ming Sawyan and representatives of Tata Trusts.
The matches between Titan Otters and Shillong Lajong Coyotes ended all square at two apiece. The Otters won the U-8 and U-10 category matches 6-0 and 5-2 respectively, while the Lajong Coyotes were winners in the U-11 and U-12 games 4-2 and 5-2 respectively.
In contrast, Kickstart FCC Rhinos were victorious in all of their four fixtures against Unified Gorkha Gators, while Langsning Greenergy Lions also celebrated a perfect record against neighbouring team Mawkhar Roosters.
The teams in the Western Conference will eagerly be waiting for next Saturday, when they will be in action. The teams in that conference are Pay for Right Flying Squirrels, Touchline NE Cubs, Onsides Gibbons, Mawlai Raptors, JNS Jaguars and Nongthymmai GC Scorpions.
Details regarding the teams in the other centres of the expanded Meghalaya Baby League will be intimated closer to their commencement dates.
(Photos contributed by the Meghalaya Football Association)