Shillong, Aug 14: Mawlai had a bit of a struggle but got past bottom side Marbisu 2-1 in the First Division at the JN Stadium here today.
M Nongmin put Mawlai into the lead in the 19th minute but Marbisu managed to equalise via R Jana just before half time for the first goal that Mawlai have conceded this season.
The clock was running down in the second half before Mawlai managed to bag the winner in the 86th minute through Oversharp Iawphniaw.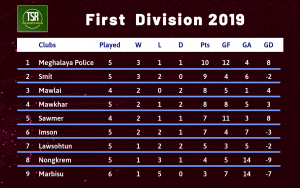 After four games Mawlai are now up to eight points, tied with Mawkhar but with a game in hand. They are the only unbeaten team left in the competition.
On Friday Sawmer are scheduled to face Mawkhar at 3:30PM.
(TSR photo. Mawlai are in white, Marbisu in blue)