Shillong, Mar 15: Karnataka defeated Meghalaya by nine wickets in their Women's Senior One Day Trophy Elite Group E match in Chennai today.
Mighty Karnataka had many more experienced cricketers in the squad, so it was a massive learning experience for Meghalaya, who are playing their first season in an elite group.
Meghalaya won the toss and opted to bat first, but were all out for 49, with Luiza Tamang (18) and Daiaka Warjri (13 not out) the only two batsmen to reach double figures.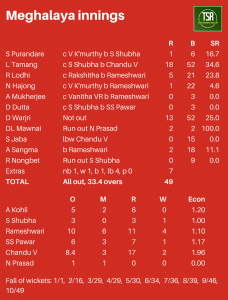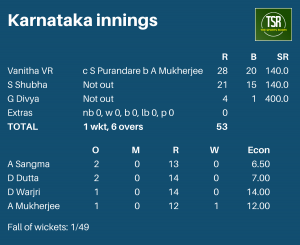 With the small total on the board there was little for the Meghalaya bowlers to bowl at and Karnataka made it to 53/1 in six overs. Guest player Ahireeta Mukherjee (1/12) did, however, manage to dismiss Vanitha VR, a former India international cricketer, before the end.
Meghalaya will next take on Delhi on Wednesday.