Shillong, Aug 17: Mawryngkneng moved to fourth place in Group B of the Second Division with a 2-1 victory over bottom side Nongumlong at Third Ground, Polo, today.
This was Mawryngkneng's first win of the season and Nongumlong's fourth defeat.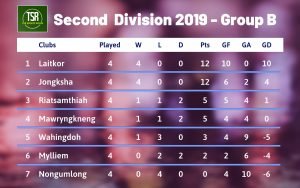 All three goals came within a short span of time late in the game, with B Mynsong (76′) and A Mukhim (79′) scoring for Mawryngkneng, while P Kharbuli struck one home for Nongumlong in the 82nd minute.
The win takes Mawryngkneng to five points, moving them above Wahingdoh, but still behind Riatsamthiah, who have a better goal difference.
On Monday, in Group A, Lumshyiap are scheduled to face Sohryngkham at 3:15PM.