Nongrim Hills' first victory of the Shillong Premier League yesterday has made things very interesting in the bottom half of the table, with only two points now separating the last four teams. Bhogtoram Mawroh gives in his insights on the Nongrim-Nangkiew Irat match here…
Nongrim's victory against Nangkiew Irat has made the battle to avoid relegation very interesting.
A couple of matches ago it seemed like Nongrim and Laban were destined for relegation. Laban obviously have issues with team selection. Nongrim, on the other hand, have had an inconsistent season so far. After the opening day draw against Rangdajied United they gave a highly-impressive performance against Shillong Lajong which was spoiled by a moment of madness resulting in two players being sent off. In the next match against Ryntih their coach was suspended and unnecessary wholesale changes were made to the team. Subsequently they drew against Langsning and finally got their first win against Nangkiew Irat. As a result of the win, they are no longer bottom of the table but still within relegation territory. Can they use the momentum of this win to get crucial points in future matches? It very much depends on continuing the good performance they gave against Nangkiew and improving on some aspects.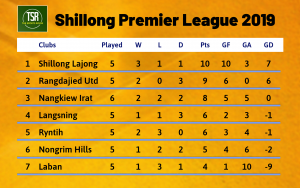 Nongrim lined up in a 4-3-3 against Nangkiew's 4-4-2. In the midfield they had Bisharlang Mawthoh playing alongside Mebanshan Suting and their captain Nikelson Bina. Bisharlang had a very good first half. He controlled the game for his team, mopping up loose balls and was always available for a pass. Playing in front of the back four, his main job was to protect his centre backs and he did that with aplomb. He played some long passes but a few of them were a little wayward, especially when he tried to release attacks. This is something he will have to improve in the future as accurate long passes can be a good tactic to release pressure on the defence and turn it into an attack. Having this ability will make Bisharlang a better player. He was very well-complemented by Meban who was a perfect foil for Bisharlang and their dynamic captain Nikelson. When an opening was not available the midfield used the defence as an extra passing option to move the ball around rather than just lobbing the ball into the opposition box. It was a professional performance from the three midfielders. Not surprisingly, Nongrim's impressive display in the midfield laid the foundation for the team's dominant performance.
At the same time, question marks have to be raised on Nangkiew's tactics which allowed Nongrim's midfield a lot of space and freedom. Time and again Bisharlang and company were able to get between opposition players to pick up a pass. Damehun Syih and Shano Tariang were playing as the two central strikers and, although from time to time one would drop back to help the midfield, they mostly stayed up the field. At the same time, both of them did not put any sustained pressure on the defenders, allowing Bisharlang to pick up the ball with ease from Raymond Sutnga and Kitdorlang L Nonglait. This put the onus on Banshan Nongdhar and Roikhihbha Nongtdu to help the two central midfielders, Shaibor Nongrum and Khangmiki Pale. Roikhihbha looked good with the ball at his feet but I don't really remember him doing much without the ball. Shaibor and Khangmiki also played quite deep, ceding a lot of space in the midfield. It was not a surprise that Nongrim's midfield had a very easy game.
Tactics aside there was also a lack of energy displayed by Nangkiew's players, who looked lethargic and were slow in reacting to situations. There was no closing down of opposition players and the midfield did not help the defence, who, under intense pressure from Nongrim's players, had no option but to repeatedly clear their lines.
Among Nangkiew's players I am most disappointed with Shaibor's performance. He had captained the Meghalaya team which lost to Mizoram in the final of the T Ao trophy on penalties earlier this year. I remember him being played as a striker for Shillong United, which was not his best position. In the following season he played in the midfield for Sawmer and on a soggy pitch gave a brilliant performance. The club were relegated but it was clear that he would play for another SPL team. It was a pleasant surprise when he was picked to be the captain of the state team. It was pleasant but not undeserved. But in this match there were only two occasions when Shaibor was involved in the game. The first one was his chipped attempt which flew over the goal post and the other was his foul committed out of frustration on Russel CL Nongkynrih. Damehun was the captain but in the midfield Shaibor was mean to be the leader and he should have done a lot more for the team.
Nangkiew's lack of energy was clearly exposed when Banshan was replaced by Primrose Lamat. From the instant he set foot on the pitch Primrose began pressing the opposition players and brought energy and desire into the game. Lack of support, however, meant that he was fighting a lone battle. The equaliser that Damehun scored was a combination of hard work and a lack of understanding between defence and goalkeeper Jessly Sungoh. Apart for some long-range shots and a good free-kick from Pynche Tyngkan, the only chances Nangkiew got in the entire match were headers from corner kicks, two of which flew not far from the goalpost. Nangkiew's coach changed the system from a 4-4-2 to a 4-3-3 in the second half with Primrose playing central, but it did not change the dynamic of the game. There was some urgency from the players but the lethargic attitude was again on display accompanied by lack of composure on the ball.
In contrast to Nangkiew, Nongrim played a high pressing game. Whenever they did not have the ball the shape was good and they compressed the space very well, not allowing any easy passing options. A good example of this high pressing game was when Nangkiew's fullbacks had the ball and Nongrim's wide attacking players like Justerwell Tham did not allow them an easy pass. Time and again Lastborn Surong was forced to play a wayward long ball to release the pressure. In the midfield when a Nangkiew player had the ball Nongrim's midfielders would swarm over the player and dispossess him. Nongrim's energetic display was personified by Nikelson, who was all over the pitch helping in attack as well as defence. On one occasion his eagerness proved almost fatal for his team when his clearance inadvertently created a goal scoring chance for Nangkiew. Apart from that he bossed the game for his team. If the first half was about Bisharlang the second was about Nikelson. He latched on to an opportunity after some good work from Batifar Swer and put the ball into the net. His selection for the Santosh Trophy team was not a surprise. Nikelson's work rate was a crucial factor in getting Nongrim their first win. There are, though, a few issues that the team and Nikelson will have to work on if they want this performance to act as a springboard for future success.
The first goal that Nongrim had was from a corner, which Kitdorlang tried to head into the net only to see Lastborn clear it. The clearance, however, fell to Batifar, who headed the ball into the net. The second goal was equally fortuitous with Batifar's cross coming off the woodwork and then clipping Monlang Shylla's leg and then lying in front of goal for Nikelson. Apart from these opportunities it is very hard to recall any other clear cut chances that Nongrim created. Nikelson, for all his trickery, is still lacking in two respects. The first one is shooting from outside the box. He tried that against Lajong and Nangkiew but did not get the desired results. Another is his lack of creativity. I have not seen him play any through balls or make a defence-splitting pass for the attackers. Technically Nikelson is quite good but he has not really shown the level of creativity required by a number 10. Lack of creativity, though, is not his problem alone.
Late in the second half Meban had the opportunity to play a through ball for Justerwell but chose not to, losing, in the process, a potential chance for an attacking move. After playing a very important part in winning the U-17 Subroto Cup for OM Roy Memorial in 2013 Meban joined DSK Shivajians' academy. If the club had not become defunct he may have got his chance to play in the I-League as well. He appeared for Rangdajied last season and now is playing for Nongrim. It will be really nice to see him raise his game and make a good career for himself. As for this match, Meban gave good support to Bisharlang and Nikelson but when it comes to attack he needs to improve like the rest of the team. Football is a team game. It's not only about individual skills but it's about how the team plays like a unit. Passing, therefore, becomes very important, to defend as well as attack. Nongrim can control the game but the question is do they have enough creativity to unlock the opposition's defence if they go behind? For players like Nikelson and Meban the ability to create chances will help them take the next step from being good players to great players. This will also be crucial for the team in its quest to survive and finish in a good position by the end of the season.
Nangkiew have a good team but have they not shown a great deal of consistency. They won against good teams like Lajong and Ryntih but lost to bottom sides Laban and now Nongrim. If they are not careful they might be relegated like when it happened to them a couple of seasons ago. Nongrim, on the other hand, have to build on this performance. The foundations for a good season are there, they just need to add a little creativity into the mix. If that happens they can challenge other teams for a good season.
(TSR file photo)