Shillong, Aug 21: Laitkyrhong and Nongthymmai played out a 0-0 draw in Group A of the Second Division at Third Ground, Polo, today.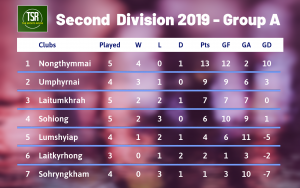 This result broke Nongthymmai's winning streak; they had won all of their previous four matches. Laitkyrhong, meanwhile, have now experienced two draws and one defeat.
Tomorrow, in Group B, Wahingdoh are scheduled to face Mylliem at 2PM.