Shillong, Nov 8: In a brief social media post, Chief Minister Conrad K Sangma announced this evening that the 5th Meghalaya Games will be held in Tura from in January.
The six-day Games will run from 15th to 20th January 2024 and will be held in the West Garo Hills district headquarters for the very first time.
Oddly enough, a photo of Indian international table tennis player Manika Batra, who isn't from Meghalaya, was included in the creative used to announce the dates.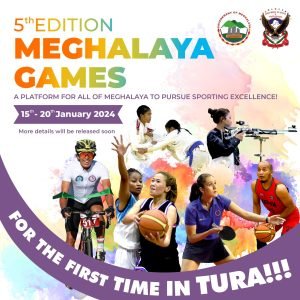 It was at the opening ceremony of the 4th Meghalaya Games last year that Sangma first announced that the next edition would be held in Tura.
Following a review meeting held in May this year, it was announced that volleyball and sport climbing have been proposed as new sports to be included in the Games. There were, however, question marks over golf due to the availability of a suitable course.
The other disciplines scheduled to be held are archery, athletics, badminton, basketball, boxing, cycling, football, gymnastics, judo, karate, shooting, swimming, table tennis, lawn tennis, weightlifting, wrestling and wushu.
Besides the sports infrastructure, accommodation for thousands of athletes will have to be arranged and the organisers will want to avoid what happened last year when photos of poor conditions went viral.
(Representative photo)