Shillong, Aug 23: After two defeats, Sawmer got back to winning ways after defeating bottom club Marbisu 2-0 in the First Division at the JN Stadium here today.
L Kurbah scored the opener in the 20th minute followed by a 39th minute goal by J Malngiang.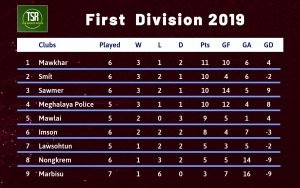 Sawmer now move to 10 points, along with Smit and Meghalaya Police. Smit have a better head-to-head record against the other two teams, and are thus in second place, while Sawmer and MLP have yet to play each other. Sawmer are thus third with a better goal difference over the police (+9 to +8), though the latter have a game in hand over the three teams above.
On Monday, Nongkrem are scheduled to face Mawkhar at 3:15PM.