Shillong, Aug 23: Umphyrnai came out as 5-0 victors over Sohryngkham in their Group A Second Division match at Third Ground, Polo, today.
All five goals came in the second half, with M Wanswett scoring a brace (57′, 82′) and D Kharkongor (60′), S Dkhar (76′) and R Shadap (90′) contributing one apiece.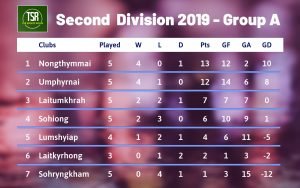 Umphyrnai, with 12 points, have now confirmed a top two spot, no matter what happens in the last round of matches. Sohryngkham, meanwhile, are still searching for that elusive victory.
Tomorrow, in Group B, Nongumlong are scheduled to face Riatsamthiah at 2PM.