Shillong, Aug 26: Mawkhar moved to four points clear at the top of the First Division points table with a 5-0 victory over Nongkrem at the JN Stadium here today.
Banehskhem Khongsdam gave Mawkhar the lead in the 25th minute and three minutes later Aenam Jyrwa converted a penalty kick, though the Nongkrem goalkeeper did get a hand to the ball but couldn't keep it out. Defender Pyngrope then found the back of the net just before half time.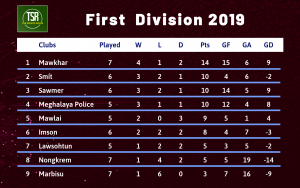 Late in the second half Boyanstar Nongkynrih bagged a goal in the 82nd minute before Balajied Syiemlieh was fed a neat forward ball that he blasted into the back of the net in the 90th minute.
Mawkhar are now on 14 points, four ahead of the chasing Smit and Sawmer, but have played an extra match. Meghalaya Police and Mawlai, further back in the table, have two games in hand.
On Friday Meghalaya Police are scheduled to face Mawlai at 3:15PM.