Shillong, Aug 31: Imson put a real dent in Smit's chances for a top two place in the First Division by winning their match 1-0 at the JN Stadium here today.
On 10 points before today, Smit were looking for a win in their penultimate match to move them back into provisional second place.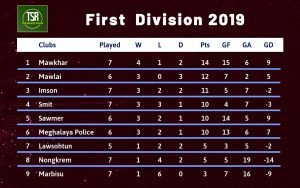 However, a 61st minute goal from P Nongkseh for Imson saw the game go against them. 
Imson thus move to third with 11 points. Smit are now fourth, still on 10 points.
On 5th September Lawsohtun are scheduled to face Marbisu at 3PM.
(TSR photo. Imson are in red, Smit in white)