Shillong, Aug 30: Laitkhyrhong and Umphyrnai played out a 0-0 draw in Group A of the Second Division at Third Ground, Polo, today.
This was Laitkyrhong's third draw in five games, while Umphyrnai have now played out their quota of six group matches, ending second with 13 points, with four wins, one draw and one defeat.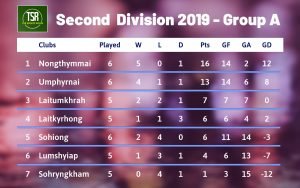 The draw, however, does take Laitkyrhong above Sohiong on head-to-head advantage in the standings.
This was the second consecutive draw in this division.
Tomorrow, in Group A, Laitumkhrah are scheduled to face Sohryngkham at 3:15PM.