Shillong, Aug 31: Laitumkhrah ended their Second Division Group A campaign with a massive 9-2 victory over bottom club Sohryngkham at Third Ground, Polo, today.
M Khongthaw scored four goals for Laitumkhrah (44′, 60′, 80,' 85′). P Kharkongor (1′), R Lamare (3′), M Wahlang (56′), Onxyson Buhroy (67′) and J Marboh (89′) scored one each. Laitumkhrah's tally of goals today exceed the number they had managed in their previous matches (7).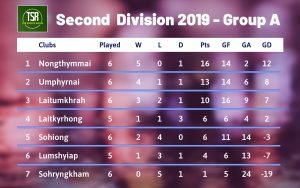 For Sohryngkham B Nongrum (6′) and B Nongbet (82′) were the scorers.
Laitumkhrah thus end in third place, secure even if Laitkyrhong win their last fixture.
On Monday, in Group B, Riatsamthiah are scheduled to face Jongksha at 3PM.