Shillong, Sep 19: Meghalaya Police did what they had to do to take provisional second place in the First Division with a 2-0 victory over Lawsohtun at the JN Stadium here today.
Chesterfield Nongdhar put MLP into the lead in the 20th minute when he received a chip in the box and converted the opportunity. Aldrin Ramsiej then made it 2-0 in the 78th minute when he received a through ball that he dinked over the goalkeeper.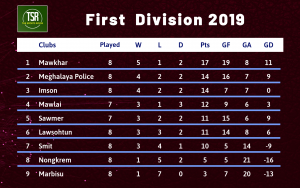 Despite the scoreline Lawsohtun goalie Banshngainlang Marsynting had a good day under the bar by making a few terrific saves to deny the police further.
Lawsohtun didn't really have much to play for as even if they had won today's game they would not have taken second place due to Imson having head-to-head advantage. In any case, Meghalaya Police claim second spot having defeated Imson 4-1 last month. They will now have their eyes on tomorrow's match, the season-ender, between Mawlai and Sawmer.
A win for Mawlai will give them second place and a spot in next year's Shillong Premier League.
(TSR photo. Meghalaya Police are in white/red, Lawsohtun in blue/black)