Shillong, Apr 1: In a terrific opportunity for the youngster and proof that he has certainly impressed the powers that be, Damaitphang Lyngdoh has been training with the senior Bengaluru FC squad ahead of the AFC Cup preliminary stage two.
Lyngdoh has been featured on TSR before, specifically in 2019 when the midfielder was pumping in plenty of goals for Bengaluru in the national Junior League. Lyngdoh had represented Meghalaya in the sub-junior nationals before joining the southern giants in 2017.
This past season, he has been playing with the Bengaluru B team in the local league, where the club finished second. In this he was joined by defender Lastborn Mawphniang and midfielder Emboklang Nongkhlaw. The latter has only recently joined the Blues after a spell in Mizoram and the U-16 Indian national team. Mawphniang, however, has been at Bengaluru for as long as Lyngdoh has.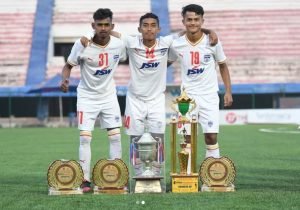 The Umlyngka lad was, according to a recent feature on the club's website, noticed by new Bengaluru coach Marco Pezzaiuoli.
"I've always wanted to train and play for the BFC first team," Lyngdoh was quoted as saying. "I know that being a midfielder is tough because there are always good foreign players in that position. And the last few weeks have really taught me that there is a higher level and intensity that I need to work towards. But I know this club gives its youth a chance so for now, I'm just going to keep my head down and work hard. I want to make the most of the experience, learn as much as possible, and hopefully when I get my chance, I'll do my best."
Recounting those heady times before he joined up with BFC, he added, "I only started believing that football could be a career when Bengaluru FC asked me to join the club. I never thought that I would somehow reach here, and definitely not when I was as young as I was when I joined. When my coach for the Meghalaya team told me that the scouts had liked me, I was shocked and surprised at first. Then when it had settled in, I was unbelievably happy."
Bengaluru will play their preliminary stage two fixture of the AFC Cup on 14th April.
(Photos: Bengaluru FC/Facebook)