Shillong, Apr 3: Marbarin Nongrum (pictured) and Betsheba Kharsyntiew scored a brace of goals each as their team, PIFA, blazed past Pacangan FC 11-0 in their opening match of the WIFA Women's Football League in Mumbai today.
The competition acts as a qualifying tournament for the Indian Women's League for teams from Maharashtra.
Nongrum and Kharsyntiew are two of several Meghalaya women footballers playing for PIFA, which finished as runners-up of the local Mumbai league last month.
Today Nongrum scored in the 24th and 50th minutes and Kharsyntiew in the 63rd and 88th.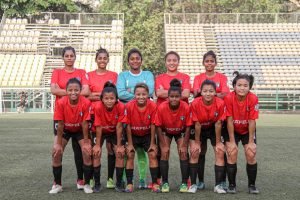 Badarisha Kharumnuid and Iawanlang Nongbet also made it into the starting XI of the match.
(Photos: Western India Football Association)