Shillong, Nov 21: Rangdajied United FC's run in the All India Football Federation's Third Division League (also known as I-League 3) came to an end today after a 0-0 draw with hosts Dempo in Goa.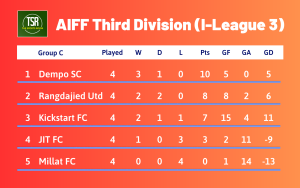 Rangdajied needed a win to knock Dempo off their perch at the top of Group C, while the fallen giants of Indian football just needed a draw to progress to the next round.
In any event, it was Dempo who created the better opportunities. Rangdajied were quiet in the first half and their best chance – one of only a handful – came in the second. The Dempo goalkeeper punched away a ball and fell to ground in the process. The ball went straight to Bansanbha Khongsdam but his second touch was a little too heavy and, as he had taken it back into the path of the goalie, the latter was able to gather up the ball.
Rangdajied thus finished with 8 points from four games.
They started in fine fettle with a spanking win against the whipping boys of the group, Millat FC, on 13th November but it was the draw against Kickstart FC two days later that proved to be costly; if they had managed to convert that result into a win, RUFC would've taken top spot in the group as they have a better goal difference than Dempo. Rangdajied's penultimate match saw them win on Sunday against JIT FC.
This was Rangdajied's return to senior-level national club football for the first time in nearly a decade. Rangdajied were in the I-League proper back in 2013-14 but, though they finished above the relegation zone, stricter club licensing requirements meant that they were ineligible to take part the following season and never attempted to requalify in the years that followed.
The AIFF introduced the Third Division this year for champions of the various state leagues across the country. RUFC qualified as winners of the Meghalaya State League 2023.
(Rangdajied United FC photo)