Shillong, Oct 20: The group stage of the Shillong Sports Association's Fourth Division concluded at Polo Ground here today.
Mylliem Lum were awarded a walkover against Laitlulong, giving them first place in Group D. The second match was thus a dead rubber, but it did see Mawpdang score at either end of the pitch for a 2-0 victory over Lummawbah, with goals by Remedy Syiem (8′) and Ricky Muktieh (37′).
At the end of three rounds, Mylliem Lum have nine points, Mawpdang six, Lummawbah three and Laitlulong zero.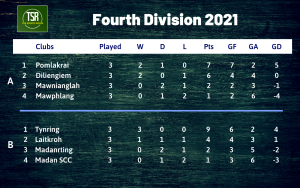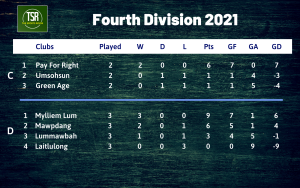 Along with Mylliem Lum from Group D, the other semifinalists are Pomlakrai from Group A, Tynring from Group B and Pay For Right Academy from Group C.
The first semifinal will be held on Saturday between Pomlakrai and PFR Academy at 2PM. The second semi will be between Tynring and Mylliem Lum on Monday at 2PM.
(TSR photo. Mawpdang are in blue, Lummawbah in red)