Shillong, Nov 22: Nongrah joined Mawtawar as the two teams from Group A to qualify for the quarterfinals of the Shillong Sports Association's Third Division at Polo Ground here today.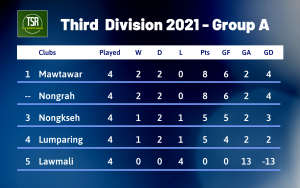 Mawtawar had already qualified as they finished their group matches last week but today Nongrah bagged the other spot after defeating Nongkseh 1-0 with a fifth minute goal provided by Aplang Buam.
It's not possible to separate Mawtawar and Nongrah as they drew 1-1 in their only meeting and also have the same goal difference, goals for and goals against.
In  the other contest, Lumparing blanked Lawmali Pyllun 3-0. Kishan Sunar (5′), Bester Pariong (59′) and Elnathan Wahlang (69′) were the scorers.
Lumparing finished behind Nongkseh on goal difference after they had drawn 0-0 on 17th November.
Tomorrow's fixtures:
Group B – Gorkha Association vs Rynjah, 12PM
Group B – Sanmer vs Mawshbuit, 2:15PM