Shillong, Nov 24: Meghalaya fell short by 58 runs, according to the VJD method, against Arunachal Pradesh today in their Plate Group match of the Men's U-25 State A Trophy in Guwahati.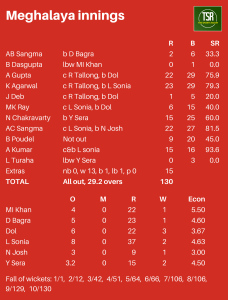 Arunachal won the toss and chose to bat first and made 199/9 in their 50 overs. All five bowlers used by Meghalaya were among the wickets, with Lokesh Turaha (3/43) and Abhishek Kumar (3/44) taking three each. Agreas Chamcham Sangma (1/25) and Bibek Poudel (1/32), meanwhile, claimed one scalp each.
There was a small interruption during the Meghalaya innings due to a wet outfield, revising the team's target to 189, but they fell well short in any case, being all out for 130.
Once again there were several good starts but no batter could go on to make a really big score. Kush Agarwal (23), Agreas (22) and Abhishek Gupta (22) all got into the 20s, while Kumar and Nishanta Chakravarty hit 15 each before being dismissed.
The highest Meghalaya partnership was the 40 runs put on by Agreas and Chakravarty for the sixth wicket.
Meghalaya will play their final match against Mizoram on Friday.