Shillong, Nov 24: Laitlyngkot and Sohryngkham dashed Nongmynsong's hopes of a quarterfinal berth in the Shillong Sports Association's Third Division by winning their last Group C matches at Polo Ground here today. These were the last group matches of the Third Division.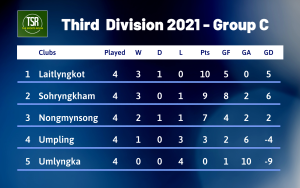 Before today, Nongmynsong, who had already finished their group fixtures, were leading on seven points. However, Laitlyngkot defeated Umpling 3-0 and Sohryngkham thrashed Umlyngka 5-0 to get them both up and above Nongmynsong.
Sohryngkham blazed a flurry of goals today through Macdonald Dkhar (34′), Marbud Kharmalki (45′, 49′), Mebanriskhem Nongkhlaw (51′) and Bankyrshan Nongrum (63′).
Laitlyngkot's scorers, meanwhile, were Bhakupar Rynjah (8′), Teibanroy Nongkynrih (56′) and Banteiskhem Nongrum (66′).
Laitlyngkot, who have not conceded a single goal in four outings, thus finished at the top of the table with 10 points, ahead of Sohryngkham on nine.
The first quarterfinal is scheduled for 3rd December at 2PM. The top team of Group A, Mawtawar, will face the second-placed side from Group B, Rynjah.