Shillong, Feb 19: Meghalaya's Dippu Sangma (pictured) hit his second-highest score in first-class cricket today but his unbeaten 55 was in a losing cause as Kerala won their Ranji Trophy Elite Group A match by an innings and 166 runs in Rajkot, Gujarat, today.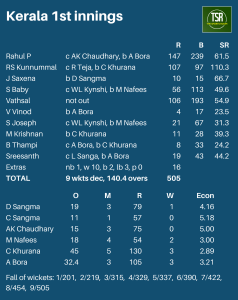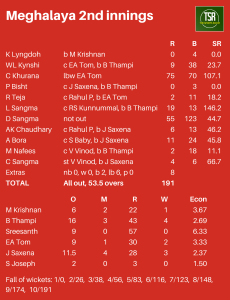 Dippu's highest first-class score is 114 against Mizoram in January 2020 and he also hit 60 not out against the same side in a one day match in February 2021. This is thus his third-highest score for the Meghalaya senior team across all formats and is extra special as it comes against a top state team.
Meghalaya fared slightly better in their second innings today compared to their first from two days ago, being bowled out for 191 compared to 148 in the first innings.
This time guest professional Chirag Khurana struck 75 from 70 deliveries in a brisk innings that featured 15 fours. There was also a brief cameo by Lerry Sangma, who hit four fours in his score of 19 off 13 balls, while Aryan Bora tried to keep Dippu company for as long as possible and made 11 from 24.
The lower middle order Dippu, however, played an invaluable role in occupying the crease and gathering up runs to keep the scoreboard moving as Meghalaya tried to take the game into the fourth and final day.
His 55 not out came off 123 deliveries, making him the batter with the most strike for Meghalaya today. He struck eight fours, all of which were off Kerala's most successful bowlers, Basil Thampi and Jalaj Saxena.
Earlier, Kerala resumed their first innings in the morning on 454/8. A 51-run partnership between Vishnu Vinod (106 not out) and former India international S Sreesanth (19) took Kerala past the 500-run mark. Sreesanth's dismissal off the bowling of Bora (3/105) resulted in Kerala declaring on 505/9, giving them a massive lead of 357.
By claiming today's only wicket for Meghalaya, Bora bagged the best figures among his team mates (the next best being Khurana's 3/130) and his best figures in his budding first-class cricket career.
Meghalaya will next face Madhya Pradesh from 24th February.
(Meghalaya Cricket Association file photo)