Shillong, Feb 18: Meghalaya's bowlers took seven wickets today but Kerala were able to extend their first innings lead to 306 on the second day of their Ranji Trophy Elite Group A match in Rajkot, Gujarat.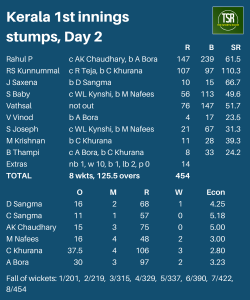 Resuming on 205/1 in response to Meghalaya's 148 all out, Kerala hit 249 runs today for the loss of seven wickets.
Dippu Sangma (1/68) struck early on in the day's proceedings to give a morale boost to Meghalaya but Kerala were then able to stitch together a 96-run third wicket partnership. However, Meghalaya then enjoyed greater success with the ball, claiming six wickets for 139 runs to leave Kerala on 454/8 at stumps.
Guest professional Chirag Khurana bowled 27.5 overs today and claimed a further two wickets to add to his scalp from yesterday. He, therefore, has the best figures so far of 3/106.
The other two successful bowlers were Md Nafees Siddique and Aryan Bora. Both are playing in only their second first-class match and they have figures of 2/48 and 2/97 respectively.