Shillong, Feb 21: Sohiong and Umphrup played out a 0-0 draw in Group B of the Shillong Sports Association's Second Division at Third Ground, Polo, here today.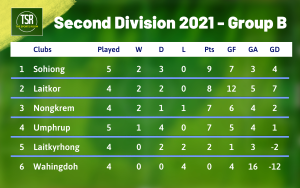 That was enough for Sohiong to get through to the semifinals as they now have 9 points and are guaranteed a place in the top two of the group. Umphrup finish the league with 7 points thanks to one win and four draws.
Coming into the match, Umphrup knew they had to win while Sohiong only need a draw to ensure a top two place.
Tomorrow's game will decide the fate of Nongkrem (7 points) and Laitkor (8). Laitkor need only a draw and Nongkrem need a win.
Tomorrow's fixture:
Group B – Nongkrem vs Laitkor, 2:45PM