Shillong, Feb 22: Mylliem and Sohiong will face off in the first semifinal of the Shillong Sports Association's Second Division at Third Ground, Polo, here on 28th February.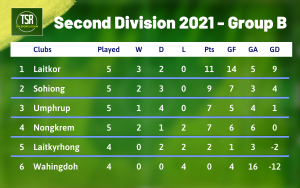 The second semi will then follow the next day between Laitkor and Marbisu at the same venue. Both matches will kick-off at 2:45PM. The fixtures were released today after Laitkor bagged the final available last-four place by beating Nongkrem.
Mylliem finished at the top of Group A in front of Marbisu (both with 10 points) on head-to-head; Mylliem had won their meeting 1-0 on 12th February.
There were three unbeaten teams in Group B but Laitkor were clear leaders with 11 points.
The winners of the two games will not only progress to the final but will also be promoted to next season's First Division.
The final will take place on 5th March. Unfortunately, it will also be held at Third Ground. The SSA Stadium at First Ground is still not ready and renovation work has just begun on the JN Stadium.
(TSR file photo)