Shillong, Feb 22: Laitkor defeated Nongkrem 2-0 to claim the last available spot in the semifinals of the Shillong Sports Association's Second Division today.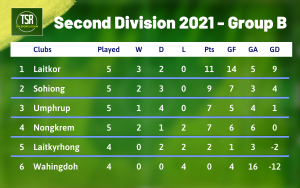 The penultimate Group B match at Third Ground, Polo, here saw Ieitlang Syiemlieh (17′) and Batkyrshan Kharkongor (26′) blank Nongkrem with two first half goals. This was the first time in five games that Nongkrem failed to score.
Going into the match, Laitkor knew that all they needed to progress to the last-four would be a draw, while Nongkrem had to win.
With this result, Laitkor moved back to the top of Group B, while Nongkrem dropped below Umphrup on the basis of goal difference; head-to-head doesn't affect them as they drew their meeting 1-1.
After the match, the SSA released the schedule for the semifinals.
Tomorrow will see a contest between bottom sides Wahingdoh and Laitkyrhong.
Tomorrow's fixture:
Group B – Wahingdoh vs Laitkyrhong, 2:45PM