Shillong, Feb 24: The last of the group matches of the Shillong Sports Association's Second Division was held today, with Mawryngkneng bagging a consolation 2-1 win over Jongksha at Third Ground, Polo, here today.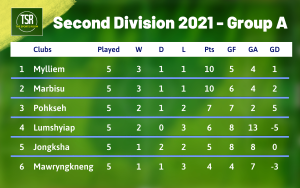 Jongksha could have moved up to fourth place if they had won but they were already out of the running for a semifinal place.
Mawryngkneng, with just 1 point before today, were already destined to finish last in Group A no matter the result.
As it happened, they were able to celebrate a maiden win, with Rapborlang Kharlukhi (45′) and Wanborlang Kharsati (76′) scoring.
Jongksha responded through Bhabok Nongspung (90′); this was his third goal of the tournament and made him Jongksha's leading scorer.
The semifinal round will be held on Monday and Tuesday.