Shillong, Mar 3: Gujarat scored 303/3 on the first day of the Elite Group A match against Meghalaya in Rajkot today.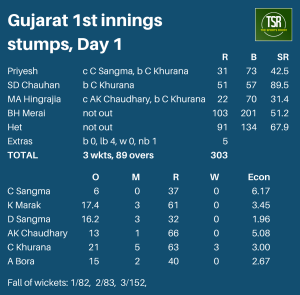 This is the last of Meghalaya's Ranji fixtures this season and the team started the day by being made to field by Gujarat, who won the toss.
The openers had a good start but both were dismissed within the space of a few deliveries to the bowling of Meghalaya guest professional Chirag Khurana.
Khurana (3/63) claimed the third wicket as well in the 47th over but after that Meghalaya experienced an unsuccessfully long spell in the field, with the next 42 overs until stumps yielding 150 runs for Gujarat without the fall of another wicket.