Shillong, Mar 10: Nangkiew FC of Umiew (pictured below) and Galaxy FC of Pynursla (feature photo) won their respective matches in the 1st Shortimai Knockout Football Tournament, organised by the Seng Samla Smit Pyllun and Smit SC, today.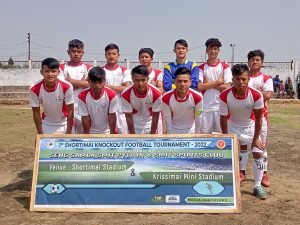 In the first match, Nangkiew FC were up against Thangsning SC and won the game 3-0. Pynkhlain Nongrum found the opener in the third minute and Nangkiew kept their stranglehold of the game, with Donryngkat Nongkhlaw (18′) and Nongrum (41′) again scoring further.
Later, Galaxy FC were involved in a closer match against Pomlakrai, winning it 2-1.
Ribor Dkhar found the back of the net for the Pynursla team in the sixth minute and the lead was doubled in the 40th through Res Marbaniang. However, Pomlakrai fought back and bagged a goal of their own a minute later through Sundy, tournament Organising Secretary Syntem Kamwamut Nengnong informed, but that was the last goal of the highly engaging match.
There will be two matches on Saturday – Lemthaw of Smit versus Nondawah Mawryngkneng at 11AM and then Mawber against Mawmluh Shi Dose at 2PM.
(Photo contributed)