Shillong, Mar 13: Mawmluh Shi Dose (featured photo) and Mawber SC were involved in a close fight in their first round match of the 1st Shortimai Knockout Football Tournament, organised by the Seng Samla Smit Pyllun and Smit SC, yesterday.
After regulation time ended goalless, the Mawmluh team came through 4-3 on penalties in the shootout.
Earlier, Nongdawah Mawryngkneng (pictured below) were 2-0 victors against Lemthaw of Smit, informed the tournament's Organising Secretary, Syntem Kamwamut Nengnong.
Medonryngkat Sari scored the opening goal via a penalty in the eighth minute before Perry Kharsati doubled the lead in the 43rd. Lemthaw had chances of their own but couldn't convert.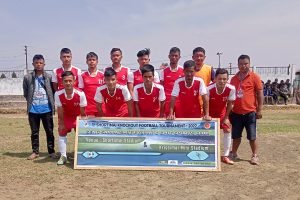 The second round of the tournament will begin on 18th March.
In the first match, Youngstar FC will take on Madan Iingsyiem Mylliem at 11AM, while the second fixture will be between Thunderbolt Laitlyngkot and Khliehmawlieh Nongstoin at 2PM.
(Photo contributed)