Shillong, Mar 28: Galaxy FC of Pynursla and Laitkyrhong SC won their respective matches of the 1st Shortimai Knockout Football Tournament, organised by the Seng Samla Smit Pyllun and Smit SC, today.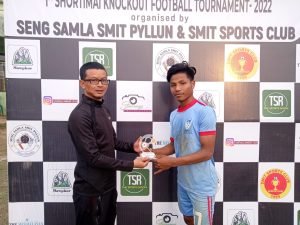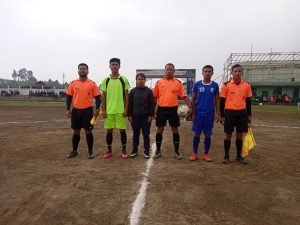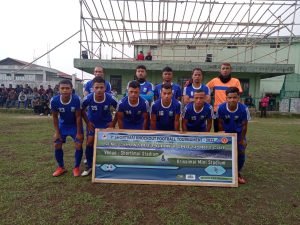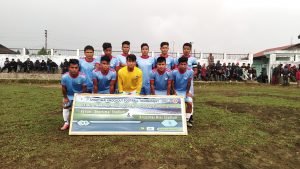 These were the last matches of the second round.
PSL Rangskhen took the lead in the eighth minute via a penalty but Laitkyrhong fought back two minutes later to equalise through Ribokstar Rynjah before Wanlam Kharpran (21′) and Lastborn Suting (70′) took the game beyond doubt for Laitkyrhong to win 3-1.
Kharpran (featured photo) was named man-of-the-match and he was handed the award by Rangbah Shnong of Nongmadan Smit, Felix Khonglam.
The second match saw Galaxy FC enjoy a 3-0 victory. The scoreline was one-sided but Nongdawah Mawryngkneng gave a good account of themselves in the first half before the Pynursla side scored three times in the second. Ribor Dkhar (63′, 65′) scored a brace and Bansan Khongsdam (70′) one goal.
Khongsdam was the man-of-the-match and his awarded was presented by the Secretary Dong of Nongmadan Smit, Baniar Mukhim.
The first quarterfinal will be played on 31st March between Paraladei Smit and Laitkyrhong SC at 11AM, followed by Lamare FC and Galaxy FC at 2PM the same day, informed the tournament's Organising Secretary, Syntem Kamwamut Nengnong.
(Photos contributed)