Shillong, May 7: The finals of the ENE Cup, a tournament for U-10 and U-12 children, concluded today at Umtyrnuit, East Khasi Hills.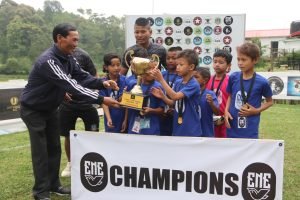 The tournament, which began some years ago, is the initiative of former Indian international footballer and, since late last year, Mawphlang MLA Eugeneson Lyngdoh.
Rangdajied United (pictured above) edged ENE in the U-10 final, while All Star Football Academy (featured photo) defeated Them Rangskhen Area CC in the U-12 title match. The participating teams had to field at least one girl in their squad and the overall standard of play was very impressive.
Meghalaya football stars past and present were roped in for the finals. The chief guest was Augustine Kharkongor, former state and Langsning footballer, who was also Eugene's first coach at Ar-Hima (now named Rangdajied United).
Also present were Aiborlang Khongjee (now the new Rangdajied coach), Aiban Dohling, Redeem Tlang, Samuel Shadap, RUFC assistant coach Aibanjop Shadap, Meghalaya Football Association Treasurer Wanshan Kharkrang, the Lyngdoh of Mawphlang and Rangbah Shnong of Umtyrnuit.
A special treat lay in the form of personalised messages by India national team goalkeeper Gurpreet Singh Sandhu and national captain Sunil Chhetri for the best goalkeeper and best player from each category.
T-shirts sponsored by Nike India, medals and trophies were distributed. Signed footballs by the Meghalaya greats were handed out to those children who answered questions put to them in a post-match quiz.
In a touching tribute, Eugene recounted a few of the exploits of Kharkongor, who was the player he most wanted to emulate when he was a boy. As his first coach at Ar-Hima, Eugene also said that he could not have gotten into the I-League, Indian Super League and the Indian team without his guidance in those early days.
He encouraged the children to keep striving, not be content with the medals they won today and instead bring greater honour to Meghalaya.
Awards:
Best Disciplined Team – Sehlung
U-10 Most Promising Player – Namebadonbok Rynjah
U-10 Top Scorer – Habankara Blah
U-10 Best Goalkeeper – Mewankynsai Byrsaw
U-10 Best Player – Lawankitdor Kharkongor
U-12 Most Promising Player – Aitenjoy Nongkhlaw
U-12 Top Scorer – Damanbha Kurbah & Banjop Jana
U-12 Best Goalkeeper – Bawanshwa Thabah
U-12 Best Player – Rikibok Khongsit
(TSR photos)