Shillong, May 17: Mawlai put seven goals past PFR Academy in Group B of the Shillong Sports Association's Women's League at Third Ground, Polo, here today, while Lumparing bagged their first victory in Group A after three consecutive draws.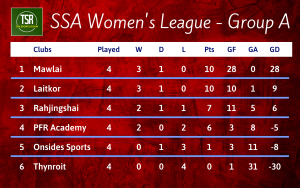 Mawlai, who have yet to even concede a goal in four outings, won their match thanks to a Betsheba Kharsyntiew hat-trick (22′, 24′, 32′) as well as single goals by Ibashisha Khongwet (4′), Rivilda Rynjah (21′), Rushia Dkhar (34′) and Marbarin Nongrum (43′).
Now with 10 points, Mawlai are back at the top of the table on goal difference over Laitkor.
In Group A, Nongthymmai ended their campaign with a 3-1 defeat to Lumparing.
Barashisha Kharkongor (6′) and Markynti Kharmuti (17′) put Lumparing two goals up before Iaphishisha Marbaniang (24′) pulled one back for Nongthymmai. Inrilaidor Khongthaw (43′) made it 3-1 in the second half of the hour-long match.
Nongthymmai thus bow out of the competition with five defeats. This happened to be Lumparing's first win after their three previous encounters ended all square. The win moves Lumparing up to third place with 6 points.
Tomorrow's fixtures:
Women's League – Group A – Thynroit vs Onsides Sports, 1PM
Women's League – Group B – Maw-U-Tieng vs Nongkohlew, 3:30PM