Shillong, Sep 3: Rangdajied United FC stayed in contention for the title with a 4-0 victory against Malki SC in the 45th match of the OC Blue Shillong Premier League 2021-22 at Third Ground, Polo, here today.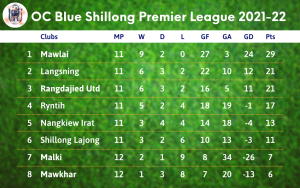 Dibormi Kassar (29', 61') produced a brace and Knerktilang Buam (77') and Raikutshisha Buam (89') one goal each to take Rangdajied to 21 points.
Coming into today's fixture, Rangdajied United were in third place with 18 points, while Malki were down in seventh with 7. Malki had frustrated Rangdajied in a 0-0 draw in the reverse fixture on 2nd July. Tied with Langsning on points, RUFC remain in third as Langsning have head-to-head advantage.
Having not scored all season, defensive midfielder Kassar headed in a chip from Donboklang Lyngdoh following a short corner to bag Rangdajied's opener, which proved to be the only goal of the first half.
Just over an hour into the game, Kassar took a crisply struck long-range shot that found the back of the net for his double, although he may have been a little lucky as Malki goalkeeper Rihoklang Khongjoh appeared to be unsighted.
The two Buams then found their way onto the scoresheet, first through Knerktilang and then Raikutshisha.
A ball that was lobbed into the Malki box saw their captain Khrawkupar Tamu try to head it away but Knerktilang steered it away with a raised boot. Malki expected a foul for this but the referee saw nothing wrong and Kner had the simplest of finishes past Khongjoh.
Later on, Raikutshisha blasted one in on the run to complete the rout and give Rangdajied their first four-goal victory in the OC Blue SPL 2021-22.
On the other side, Malki simply could not make an impact in today's game, though there was an optimistic yet wayward attempt by Khrakupar Nongkhar in the very first minute, and they slipped to their ninth defeat; this was also the fifth time this season that Malki have conceded four goals or more in a match.
Instead it was Rangdajied with all the scoring opportunities. Some of the best of these saw Knerktilang denied by a diving Khongjoh in the 42nd minute and the Malki goalie was called into action again in the 48th to prevent a powerful Oresterwell Langshiang attempt from going in.
The diminutive Langshiang then smashed one into the crossbar in the 72nd minute just before Donboklang missed what should have been an easy tap-in after a Raikut cross from the right flank.
Right at the end of the contest, Kassar was denied his hat-trick after a Malki defender threw himself into the way to block a shot that looked like it was heading for goal.
There will be no OC Blue SPL match until 8th August when Nangkiew Irat SC (13 points) will face Shillong Lajong FC (11) in a battle for fifth place. Whichever team wins will also guarantee themselves a finish outside the relegation zone. Their first leg meeting ended 1-1 on 28th June.
(TSR photo)