Shillong, Apr 24: Jowai will have the honour of starting us off in the third edition of the Meghalaya State League on 12th May at the Kiang Nangbah Stadium.
This means, however, that MSL 2023 has been pushed back by a further week; it had been announced earlier this month by the Meghalaya Football Association that it would begin on 5th May.
The Jowai zone has seven teams, with each of the other three zones – Tura, Shillong and Mawkyrwat – having six each for a total of 25 participants, which makes this the biggest MSL yet.
Jowai's opening match should be a humdinger with 2017-18 champions Niaw Wasa United facing 2019's runners-up Rangdajied United. (TSR doesn't yet know the kick-off time.)
All the other zones will play their first matches on the following day.
With an extra team, the Jowai zone has seven rounds of action, while the others have five each. However, all four zones will conclude their group matches on 3rd June, with the knockouts to follow.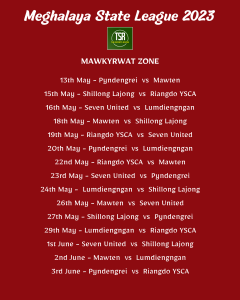 (File photo)