Shillong, Jun 14: The Shillong Sports Association's Women's League will begin on 19th June, with 12 teams participating.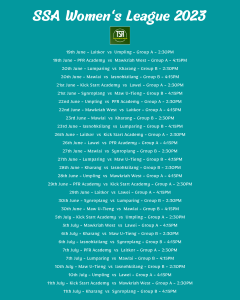 This is the second edition of the Women's League, the first of which was won by Mawlai last year. Mawlai will be back again this year to defend their crown. They have been drawn with Iasnohktilang, Lumparing, Kharang, Synroplang and Maw U-Tieng in Group B.
Group A consists of last year's runners-up Laitkor, Umpling, PFR Football Academy, Mawkriah West, Kick Start Academy and Lawei.
Half of the 12 sides are new to the Women's League – Umpling, Mawkriah West, Kick Start, Iasnohktilang, Kharang and Synroplang – as six teams from 2022 didn't sign up for this year's edition – Onsides, Rahjingshai, Thynroit, Nongkrem, Nongkohlew and Nongthymmai.
The top two sides from each group will progress to the semifinals, which have been scheduled for 14th July, with the date for the final to be notified in due course.
Prize money remains the same as last time – Rs 30,000 for the champions and Rs 18,000 for the runners-up. The matches will be of 30 minutes per half and be held at Third Ground, Polo.
(TSR file photo)