Shillong, Aug 2: After sitting out last season, Meghalaya Police will be back in the Shillong Sports Association's football calendar in 2023, albeit in the Third Division, which will start on 17th August.
MLP were a First Division team back in 2019 and finished third in the standings that year but then chose to sit out 2021-22 (there was no football in 2020 due to Covid-19). According to SSA rules, when a team skips a season and then returns later on, it has to re-enter through the lowest rung, ie the Fourth Division. However, given that the Fourth Division is restricted to U-20 players and given that MLP are a police team, that wouldn't really work, so they're coming back through the Third Division. (On a side note, TSR would be interested to know what would happen then if MLP finish in the drop zone of the Third Division this year – would they be exempt from relegation?)
There are 21 participating teams in the Third Division this year and they have been divided into four groups of five, with Group A having an extra team.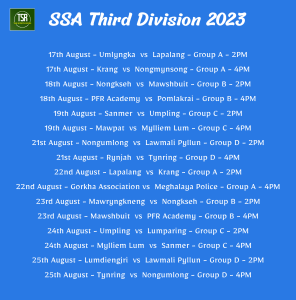 Group A consists of Umlyngka SC, Lapalang SC, Krang SC, Nongmynsong SC, Gorkha Association and MLP.
Group B comprises Nongkseh SC, Mawshbuit SC, PFR Football Academy, Pomlakrai SC and Mawryngkneng SC.
In Group C are Sanmer SC, Umpling SC, Mawpat SC, Mylliem Lum SC and Lumparing SC.
Finally, Group D is made up of Nongumlong SC, Lawmali Pyllun SC, Rynjah SC, Tynring SC and Lumdiengjri SC.
Only the first 16 fixtures have so far been released by the SSA, with two matches scheduled for each of the eight days. The games will be held at Third Ground, Polo.
The bottom-placed team from each group will be relegated to next season's Fourth Division, while the two teams that qualify for the final following the knockouts will be promoted to the Second Division.
(TSR file photo)