Shillong, Sep 8: A demonstration of sports shooting was conducted by the Shooting Association of Meghalaya at the School & Centre for the Hearing Handicapped Children at  Bethany Society, here on Friday.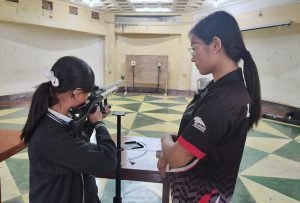 Nineteen children attended the demonstration of 10m pistol and rifle shooting, which was led by four of SAM's shooters.
Nine students showed great potential even though this was the first time they were exposed to sports shooting.
During the programme, SAM President John F Kharshiing said that the association is exploring the possibility of providing the physically disabled with training subject to recommendations by the school management and Principal with the possibility of participating in para events.
This was the first time that SAM took the step in reaching out to the disabled in this inclusive way, the association's General Secretary, Neil Sootinck, said in a press release.
(Shooting Association of Meghalaya photos)