Shillong, Sep 12: The 2nd North East Squash Tournament 2023 was organised by the Meghalaya Squash Rackets Association on 9th-10th September at the Assam Rifles Sports Complex in Laitkor.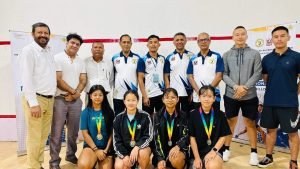 The states that participated were hosts Meghalaya, Assam, Tripura, Manipur and Arunachal Pradesh.
Assam won the men's and women's team events, with Meghalaya second in the former and Manipur second in the latter.
The men's open event was won by Ishaan Jain, with Adil Warsi the runner-up. Monushree Raut was the women's open champion, with Nandini Bayan second. Brig Sumit Rana won the MO50 category, with Aquarius Mathew second, while the MO35 category title was claimed by Col Kanhaiya Nand Sharma, with Pawan Sharma the runner-up.
The prizes were distributed by Shiladitya Deb, Chairman of the Assam Linguistic Minority Board, Brig KVK Prakash of Assam Rifles and retired senior civil servant Andrew Langstieh.
(Photos contributed)