Shillong, Oct 27: The Shillong Sports Association's Second Division 2023 will begin on 30th October, it was announced yesterday with the release of the first 22 fixtures to the media.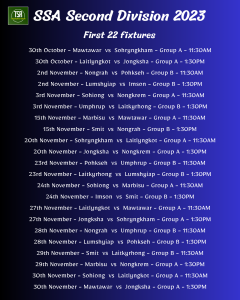 Fourteen clubs in all are taking part and have been divided into two groups of seven. This is a small increase in the 12 teams that participated last year.
The league was meant to begin at the end of August but had to be postponed due to ground conditions at First Ground and a lack of other venue options.
In Group A are Mawtawar SC, Sohryngkham SC, Laitlyngkot SC, Jongksha SC, Nongkrem SC, Sohiong SC and Marbisu SC.
Group B features Nongrah SC, Pohkseh SC, Lumshyiap SC, Imson SC, Umphrup SC, Laitkyrhong SC and Smit SC.
Four teams have been promoted from last season's Third Division – Mawtawar (champions), Nongrah (runners-up), Sohryngkham and Laitlyngkot (losing semifinalists).
Laitkor SC won the title last year by beating Mylliem SC in the final.
(TSR file photo of Mawtawar SC and Nongrah SC)