Shillong, Oct 27: The quarterfinals of the Shillong Sports Association's Third Division 2023 will take place between 6th and 11th November, it was informed yesterday.
The two top teams from each group have qualified for the last-eight.
The first fixture will be between Group A toppers Meghalaya Police and Group C runners-up Sanmer SC on 6th November at 2PM at First Ground, Polo, here.
The semifinals will take place on 21st and 22nd November, with the final to follow on 25th November.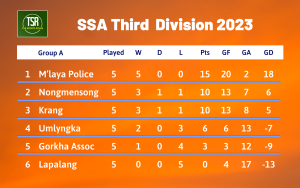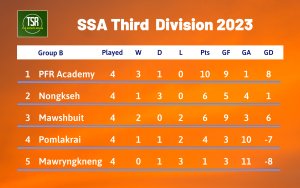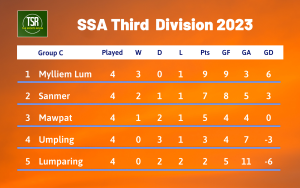 MLP won all five of their group games, with Nongmensong SC coming second. The latter were tied with Krang SC on 10 points each and, with head-to-head unable to separate them as they had played a 2-2 draw in the very first match of the season, Nongmensong went through with the better goal difference.
In Group B, Pay For Right Academy finished first. Nongkseh SC only won one match but it was against Mawshbuit SC, so it is the former who progress on head-to-head, which gets considered first before goal difference in SSA tournaments.
There's no such issue in Group C, where Mylliem Lum SC finished 2 points ahead of Sanmer, who were a further 2 points ahead of Mawpat SC.
Finally, in Group D, unbeaten Tynring SC claimed 10 points to come out on top, with Lawmali Pyllun SC second on 7.
In addition, the bottom side in each group will be relegated to the Fourth Division next year. That'll be Lapalang SC, Mawryngkneng SC, Lumparing SC and Rynjah SC.
Third Division quarterfinal fixtures (all matches to begin at 2PM at First Ground):
6th November – Meghalaya Police vs Sanmer SC
7th November – PFR Academy vs Lawmali Pyllun SC
10th November – Mylliem Lum SC vs Nongmensong SC
11th November – Tynring SC vs Nongkseh SC