Shillong, Nov 2: Shillong Lajong FC have named their 30-member squad for the I-League 2023-24.
We are already six games into the new season but newly-promoted Lajong will only play their first fixture on Friday on the road against Mohammedan Sporting, starting at 7PM.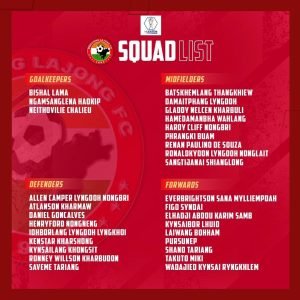 The return to the I-League has seen Lajong sign up four foreigners – Brazilian defender Daniel Gonçalves, Senegalese striker Abdou Karim Samb, Brazilian midfielder Renan Paulino de Souza and Japanese striker Takuto Miki.
This will be SLFC's 10th season in what is now the second tier of Indian football and the first club from the North East to ever play in the I-League are looking for a finish up towards the top of the table.
Although the foreigners will have to play a big part, the core of the squad has grown up over the years under the tutelage of coach Bobby Lyngdoh Nongbet.
In addition are a few players from other clubs in Meghalaya (Atlanson Kharmaw, Kynsaibor Lhuid, Ronaldkydon Lyngdoh Nonglait) as well as several returnees from past years (Kynsailang Khongsit, Hardy Cliff Nongbri, Phrangki Buam, Neithovilie Chalieu, Kenstar Kharshong, Allen Lyngdoh Nongbri), one from Bengaluru FC (Damaitphang Lyngdoh) and a few North Easterners who TSR hadn't heard of before (Ngamsanglena Haokip, Laiwang Bohham).
Some of these players have already been with the club for several months now, right from the Second Division League and Meghalaya State League, but others are more recent additions.
What's super interesting is that the club have never fielded so many local players in an I-League season. While Lajong have always drawn most of their strength from the North East as a whole, the rather small numbers of Meghalaya players in their previous I-League squads did garner criticism. That has changed completely this time around with more than 20 Meghalayans in the squad of 30 as the Reds make their comeback with an aim to give a real challenge and, perhaps, even grab the title.
(Photo: Shillong Lajong/Facebook)