Shillong, Mar 10: A stunning 19 goals were scored in the two matches on day four of the 3rd Assam Rifles Invitational Football Cup at the JN Stadium here today.
The morning match saw defending champions Assam Rifles Laitkor win 9-1 over Nongkrem and the scale of their victory was almost matched by Ryntih in the afternoon fixture as they handed Pomlakrai an 8-1 defeat.
Two hat-tricks were recorded today, one from Zuala for Assam Rifles and the other by Robert Khongjoh for Ryntih.
Zuala picked his goals in the 25th, 29th, 65th and 79th minutes, while his team mate Akum Ao (4′, 28′) picked up a brace. M Chetry (39′), GK Anal (51′) and LR Channa (57′) were the other scorers in the match with the highest margin of victory so far this year.
After the jawans had scored their nine goals, Marlangki Suting denied them a clean sheet with a consolation goal for Nongkrem in the five minutes from normal time.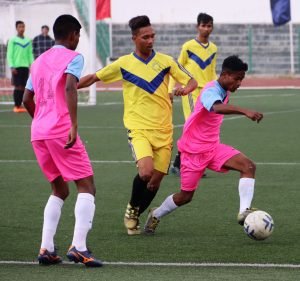 In the second fixture, which saw rainy conditions for part of the second half, a handball by Pomlakrai in their own box allowed Ryntih to go ahead through a Dameki Khongstia penalty kick in the 12th minute.
Another three goals were scored in the first half, by Wanshanlang Dkhar (30′), Willbert Marbaniang (41′) and Robert Khongjoh's first in the 42nd minute.
Jarris Rymbai then reduced the margin a little for Pomlakrai in the 75th minute, but almost immediately Ryntih scored at will, with Dkhar getting his second two minutes later followed by another three goals for Khongjoh (79′, 81′, 82′).
After seven exciting matches the Assam Rifles Invitational Football Cup will take a break on Sunday, but will be back in action on Monday at the JN Stadium for the last pre-quarterfinal match, which will be between Eastern Pirates and Mawngap at 1PM.
(Photos contributed by Assam Rifles)