Shillong, Mar 11: Around 130 girls took part in the Meghalaya Football Association's football festival for schoolgirls at Polo Grounds yesterday, a first of its kind event for the state. A short seminar on trends in football and female participation in sports was held in the afternoon.
The football festival began with an opening address by MFA Women's Committee Chairman Diverland Lyngdoh. The event was organised by women coaches and footballers from Meghalaya and concluded with a felicitation (pictured above) of the Umthli Secondary School girls football team, which had brought great pride to the state by winning the Reliance Foundation Youth Sports national tournament in Mumbai earlier in the year.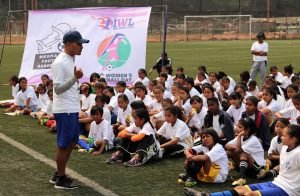 In the vote of thanks MFA CEO Arki Nongrum assured the girls who came to participate in the festival that the Association will be rolling out more programmes for girls and women footballers.
One big event on the way is the final round of the Indian Women's League, which will be hosted by Shillong. Nongrum, and later MFA Treasurer Wanshan Kharkrang, encouraged those present to come out and witness the tournament, which begins on 25th March at the JN Stadium, and to learn and perhaps interact with the players as well.
A smaller group of 25 attended the seminar, where Shillong United FC General Manager Nicholas Jyrwa educated the participants on the rise of Indian football, gender disparity in sport and laid out a few statistics in regards to female athletes, while also highlighting a three-point plan to take women's sports forwards – strategise, systematise and motivate.
Kharkrang added further encouragement to the female athletes, saying, "Many male footballers are making a living by playing the sport and that should be a motivation to you, but I'm not telling you to neglect your studies. There are opportunities for sportspersons to get government jobs, but many male footballers don't want to study even to Class 10, but you need to graduate to get a job."
The MFA will begin a women's league, even if it only extends to the school and college level, because "we believe that the more exposure you get the better. Please join with the MFA to make women's football in the state better," Kharkrang concluded.
(TSR photos)