Shillong, Mar 11: The All India Football Federation (AIFF) claimed on Friday that I-League in-stadium attendance had increased by 58% in the 2017-18 season over the previous year, although the spread is by no means evenly shared out, with attendance at Shillong Lajong FC home games dropping by 30% year on year.
On its website, the AIFF stated that average attendance has risen from 6,500 spectators per match in 2016-17 to 10,210 in 2017-18.
That's actually an increase of 57.08%, but we'll forgive the AIFF their slight exaggeration.
According to the figures announced by Lajong in their home matches, however, only 49,000 attended their home games in 2017-18, an average of 5,444. That's a 30% drop on the 70,000 (average 7,778) that came to watch their 2016-17 matches at the JN Stadium.
Of course, you have to remember that 2016-17 saw a truly special occasion on the last day of the season, when Aizawl FC drew 1-1 with Lajong to become the first and only North East club to win the I-League. That match was attended by 23,700 fans, a huge chunk of whom came to cheer on Aizawl.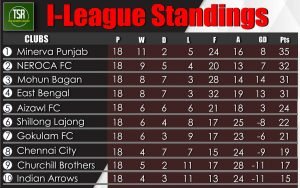 Newbies NEROCA FC saw the highest average attendance this season at 24,500, with 35,285 being their record attendance in Imphal. While NEROCA's average is the highest, the biggest attendances were seen in the Kolkata derbies between East Bengal and Mohun Bagan; 64,360 people were present in the stands when Bagan hosted their city rivals in the first leg, while the return leg was attended by 52,951 supporters, the AIFF said.
Lajong's attendance peaked early on in the season – 7,800 came out to watch them versus Churchill Brothers in the second match of their campaign. Three games on the road then followed and their next home fixture, just two days before Christmas, saw their lowest turnout at a mere 3,000.
TSR was a little surprised to learn that even Gokulam Kerala (9,200) and Chennai City (8,940) saw higher average attendances this year than Lajong, but, really, you'd be well advised to take all of these figures with a pinch of salt.
(TSR file photo)