Shillong, Jun 30: Langsning Greenergy Lions had their third straight week of 100 percent wins as they beat Unified Gorkha Gators in all five age group matches of the Meghalaya Baby League (MBL) 2018 here today.
Under glorious sunny skies, the children of the eight different teams played their hearts out in the 20 matches held today at the JN Sports Complex.
The MBL 2018 is the joint initiative of Tata Trusts, the Meghalaya Football Association and All India Football Federation.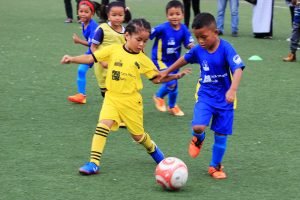 A total of 140 goals were scored today, with the Greenergy Lions producing 37 of these without conceding a single goal. The other matches in the Western Conference were held between Little Star Clouded Leopards and Kickstart FCC Rhinos. There were three victories for the Rhinos, one for the Leopards and one draw.
Over in the Eastern Conference, Touchline NE Cubs won three of their matches against Nongthymmai GC Scorpions, with the latter victorious in the other two, while Sunnydale School Doves managed two wins against the JNS Jaguars. The latter won one match while there were also two draws.
As is usually the case, the 4-5-year-olds appeared to have the most fun. While still learning the basics of football (like which end of the field they are supposed to score from) the little tykes are definitely improving slowly as the weeks progress and they are a credit to their parents, guardians and coaches.
(Photos contributed by the Meghalaya Football Association. The featured photo is of Little Star Clouded Leopards (white) vs Kickstart FCC Rhinos (maroon))